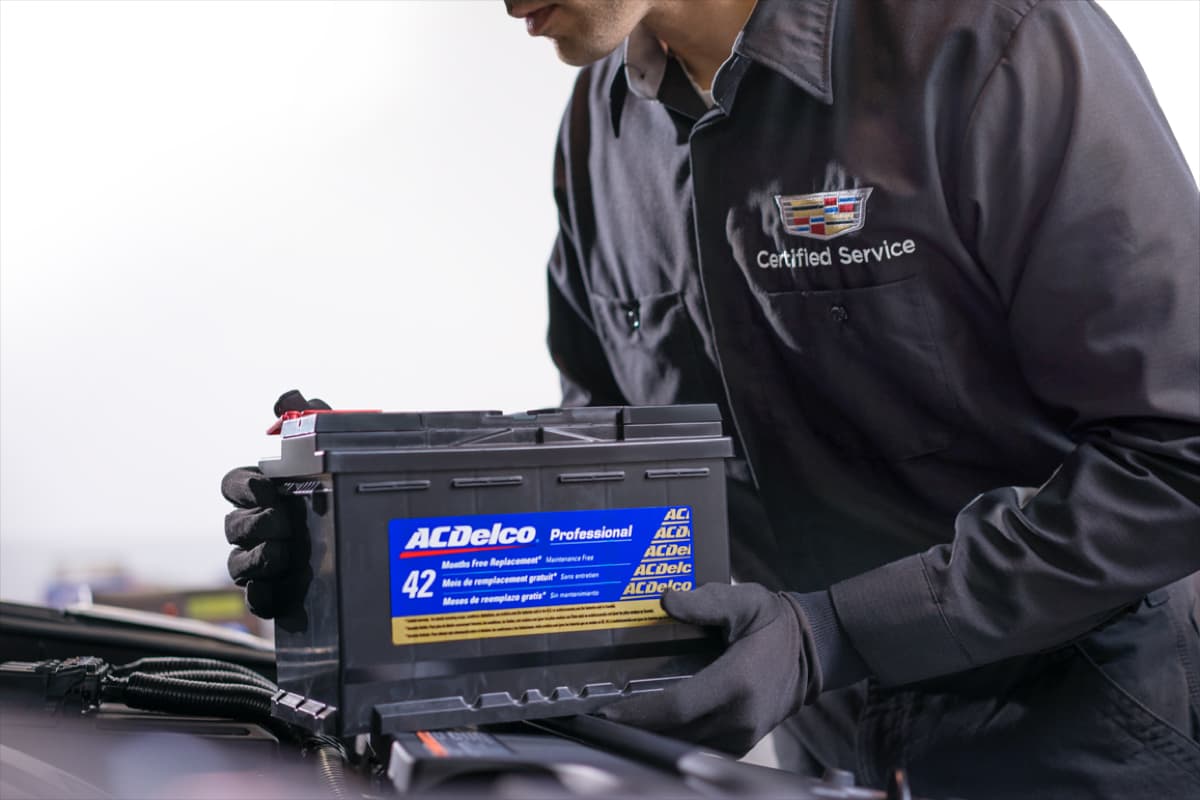 Battery Service
When you're getting ready to take on your morning commute to Charlotte, the last thing you want to deal with is a car that struggles to start. Your vehicle's battery supplies energy to start the engine, in addition to providing power to accessories when the engine isn't on. That being said, battery maintenance is an essential component of car ownership, especially when temperature changes occur during the heat of summer and cold of winter. If you need battery service in the Monroe area, look no further than the service department at Hendrick Cadillac Monroe!
Battery Specials
Most ACDelco Gold 42-Mo Batteries Installed
42-month free-replacement limited warranty**
$185.00
Save On Car Battery Replacement Service Near Charlotte
When your car requires a new battery, you can count on our dealership to provide you with a great price. We routinely update our service offers with new ways to save on battery replacement and other maintenance—take a look at the feed above to see what's available before you visit us for battery service.
We'll Help You Select the Right Battery for Your Car
When you visit us for car battery replacement service near Concord, our team is here to help you select the most optimal battery to match your budget and your vehicle's specifications. We're proud to provide a comprehensive range of ACDelco automotive batteries for a winning combination of longevity, power, and price. An ACDelco battery is sized to offer a sure fit, and you can count on it to have the correct reserve capacity and necessary cold-cranking amps to give you a clean engine start every time.
Don't get stuck with a dead battery in Pineville — have us check your battery's health.
Schedule Battery Service Online
If the dashboard in your Cadillac says "Service Battery Charging System," you should schedule service without delay. This message could be an indicator of a dying battery or failing alternator, both of which should be addressed quickly. Whether you need to replace your battery or get a seasonal inspection, our service department is here to support you. Contact us or book an appointment online to get started!
Battery Basics
Why won't my vehicle start?
There are numerous reasons why a vehicle won't start. If it's related to the battery, the starter will generally not crank the engine. This is the telltale "click, click, click" you hear when you turn the key or push the start button that lasts for about 10 seconds. The battery voltage and charging information in the Driver Information Center (DIC) can also make you aware if the alternator is not charging the battery properly, or if a loose battery or starter cable is causing a problem.
Do I need to charge my battery after I jump-start my vehicle?
In most instances, driving will recharge the battery fully in 1-2 hours, unless there is an issue with the vehicle. If your vehicle does not restart after driving it, have it towed to your nearest Certified Service experts to have a diagnosis performed.
What are the main causes of automotive battery failure?
Batteries wear out over time, but issues such as improperly connected accessories, infrequent startup, hot temperatures, and high cranking currents caused by freezing temperatures (32 degrees Fahrenheit or colder) can lead to battery failure.
Can preventive maintenance improve battery life?
The best thing that you can do is have your Certified Service technician perform a test on your battery when you get your oil changed. This helps monitor the status of the battery and helps prevent you from being in a situation where your vehicle won't start.
How often should I change my battery?
Vehicle batteries last 3-5 years on average depending on a number of factors, including driving habits and climate. In general, warmer climates will shorten the life of a battery. Also, long periods of time spent in a discharged state tend to increase damage due to sulfation.
What if I'm not sure the problem is my battery?
Your Certified Service experts can give you a no-charge battery test to determine if your battery needs replacing or if there is an issue with another charging component.